10 things to do this weekend in Cleveland: July 8-10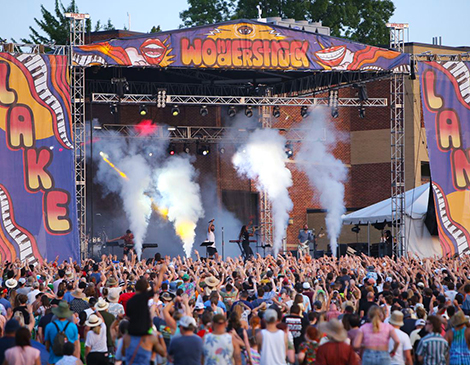 Share a garden party toast at Shaker Soirée, rock out at Wonderstruck, cruise with Cleveland Tall Ships Fest and more this weekend at The Land.
Archie and the Bunkers at Beachland Ballroom & Tavern
The rock 'n' roll duo behind tracks like 'She's a Rockin' Machine' make their official return to Cleveland's Screaming – an event featuring Detroit psychobilly rockers, the Ruiners and the premiere of the Mike Hudson movie It's ELVIS' '92 birthday. $15, July 9, 7 p.m., 15711 Waterloo Road, Cleveland, 216-383-1124, beachlandballroom.com
Bridgestone Senior Players Championship at Firestone Country Club
Head to Firestone County Club to watch Steve Stricker defend his 2021 Senior Players Championship. The fun doesn't stop there, Firestone features live music from the Akron Symphony Orchestra and Coffee with Legends, a conversation around a cup of coffee with great championship winners like Hale Irwin. $10-$25, July 6-10, various times, 452 E. Warner Road, Akron, pgatour.com
Cain Park Arts Festival
Hundreds of artists and artisans gather for three days of creativity and maybe a little shopping. Entries to the festival range from watercolors to handmade jewelry, with plenty of pieces available for purchase if the mood takes you. Free, July 8-10, various times, 14591 Superior Road, Cleveland Heights, cainpark.com
Kevin Hart at Rocket Mortgage FieldHouse
Want to relax and laugh this weekend? Then don't miss comedy titan Kevin Hart, who will stop in Cleveland as part of his Reality Check tour. With a long list of stand-up specials and feature films under its belt, you're in for a guaranteed jaw-dropping night. Tickets from $39.50, July 10, 7 p.m., 1 Center Court, Cleveland, rocketmortgagefieldhouse.com
Lil Jon DJ set at FWD in the Flats
Lil Jon is hitting the Flats this weekend, throwing a firecracker-filled party on the waterfront. Known for smash hits like "Turn Down for What" and "Get Low," get ready for one of the the most energetic in The Land, thanks to the crunk icon himself. $40, July 8, 9:30 p.m., 1176 Front Ave., Cleveland, 216-990-2300, fwdnightclub.com
Shaker Night at the Shaker Historical Society
Food, music, libations, what more could you ask for? Join the Shaker Historical Society for this chic garden party inspired by the organization's very first planned event in 1948. The evening begins with a pre-party Champagne celebration and a behind-the-scenes museum tour you won't want to miss. $100, July 9, 7-10 p.m., 16740 S. Park Blvd., Cleveland, 216-921-1201, shakerhistory.org
The SpongeBob Musical at the North Canton Playhouse
Family-friendly and timeless, watch Bikini Bottom's favorite cook save his home, and maybe even the world, using the power of optimism and friendship. From Gen X to Gen Z, SpongeBob SquarePants brings generations together for endless laughs. $15, through July 17, various times, 525 Seventh St. NE., North Canton, northcantonplayhouse.com
Tall Ships Festival at North Shore Harbor
Transport yourself to Cleveland's maritime history. The Tall Ships Fest docks near FirstEnergy Stadium, promising four days of traditionally rigged sailboats from Canada, the United States and Spain. Sign up for a Sail Away to get the full nautical experience—boarding begins at 10:00 a.m. daily. $17-$300, July 7-10, various times, 515 Erieside Ave., Cleveland, tallshipscle.com
Twilight picnic at Holden Arboretum
Enjoy an evening picnic in the woods with SPICE catering, live music, and activities for all ages, such as face painting, a craft station, and a botanical-themed scavenger hunt. Part of the event includes an online plant auction – your chance to walk away with a new addition to your own garden – courtesy of Klyn Nursery. $35-$500, July 9, 5:30 p.m., 9550 Sperry Road, Kirtland, holdenfg.org
Wonderstruck Festival at Lakeland Community CollegeDon't miss Northeast Ohio's only internationally recognized contemporary music festival. Headliners The Lumineers and Vampire Weekend grace Lakeland alongside more than a dozen other artists. With 20 hours of live music spread across three stages, something is sure to rock you this weekend. Tickets from $50, July 9 and 10, 11:30 a.m. to 10 p.m., 7700 Clocktower Drive, Kirtland, wonderstruckfest.com
Get a head start on the weekend by signing up to our free weekly "In the CLE" newsletter – your guide to fun across The Land. Arriving in your inbox every Wednesday, this weekend to-do list has you covered on everything from concerts to museum exhibits — and more. Click here to subscribe.