A detailed look at Johnny Cash's Cadillac in one piece at a time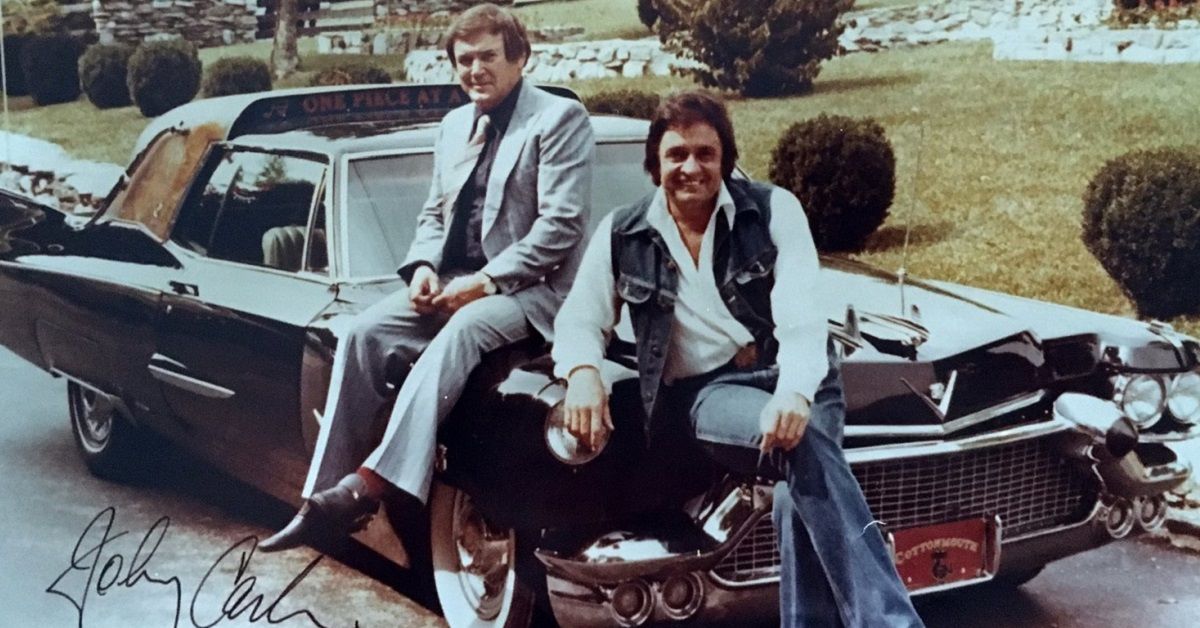 Musicians have a love affair with Cadillacs. Maybe it all started with Elvis Presley's famous Pink Fleetwood. Or maybe the craze started with Chess Records offering Cadillacs to rhythm and blues musicians like Muddy Waters and Chuck Berry. But it was Johnny Cash who sang the most iconic Cadillac song in American history: his 1976 hit "One Piece at a Time".
In the song – written by Wayne Kemp and made famous by Johnny Cash – the Kentucky-born narrator moves to Detroit and lands a job on GM's Cadillac assembly line. He spends his days installing wheels on beautiful cars and laments that he can never afford one. Then he makes a plan; he begins to steal auto components and smuggle them out of the factory in his "oversized" lunchbox. He plans to build his Cadillac, "one piece at a time." After 25 years, he has enough parts to attempt to assemble his car. But much to her chagrin, Cadillacs have evolved over the decades and their stolen components don't fit together.
The determined narrator modifies what he can and prepares a Franken-car behind the wheel. He proudly takes his wife for a drive, only to discover that he is the laughing stock of his town.
Johnny Cash's "One Piece at a Time" was his latest Billboard Hot 100 hit and led to several fan-made tribute cars in the spirit of the original.
Although fictitious, the song inspired not one, but two Johnny Cash certified "One Piece at a Time" Cadillacs.
Auto salvage on top of a hill
After Johnny Cash recorded his smash hit, his producers needed publicity photos. They reached out to Bruce Fitzpatrick, owner of Abernathy Auto Parts and Hilltop Auto Salvage in Nashville, Tennessee, about a unique custom vehicle. They didn't offer Fitzpatrick any money, but he liked the song and agreed to build them a car for fun.
Fitzpatrick listened to Johnny Cash's song again and noticed that the narrator built a car from parts from 1949 until the early 1970s Cadillacs. Fitzpatrick had a lot of Cadillacs, so he scoured his scrapyard and identified donor cars spanning twenty years. He asked his employees to ride a car piecemeal. They worked a little over a week.
When the Cadillac was finished, Fitzpatrick drove it to Johnny Cash's Museum: The House of Cash. Fitzpatrick caught up with the singer and his band, and they had a blast doing a photoshoot for the upcoming single.
Fitzpatrick left the car at the Cash Museum. Until a place opens to display it, the museum left the vehicle parked in front, much to the dismay of the neighbors. Once inside, the historic car remained on display for a decade. Then, in 1986, Fitzpatrick got a phone call. The House of Cash went bankrupt and closed its doors. They asked him if he could get his creation back. Obliged, Fitzpatrick drove to Hendersonville, Tennessee, and towed the car to Hilltop Auto Salvage. Today, the original car featured on the album cover would be almost priceless. There are many museums, and even bars in Nashville, that would like to showcase a piece of the country's history. Unfortunately, when Fitzpatrick brought the accessory car back to Hilltop Auto Salvage, he crushed it and sold it as scrap. Fitzpatrick says he now gets phone calls about the car often and is amused that at the time he didn't think it would ever be a big deal.
RELATED: Here's What Happened To James Dean's 1949 Mercury From Rebel Without A Cause
A patchwork Cadillac
Bill Patch was a Johnny Cash fan and auto enthusiast from Welch, Oklahoma. He was also a generous man, involved in community fundraising for his local Lions club and always giving gifts for his friends. One day in the late 1970s, he was sitting in his office listening to Johnny Cash's "One Piece at a Time" when he had an idea: he would build his own cobblestone Cadillac. But instead of a tribute from fans, he decided that his creation would be a gift to Johnny Cash.
Patch and a few of his mechanic friends visited every landfill in the Oklahoma area, asking for Cadillac parts. Patch remembers the look on salvage yard owners' faces when they asked him what year he needed, and he said, "Any". They used a destroyed 1968 Cadillac as a skeleton and suspended components for various cars from the chassis. All parts and labor cost about the same as a new Cadillac at the time.
He paid close attention to every detail of the song and carefully outfitted his car with a "tail fin" and three headlights, "two on the left and one on the right". He pulled the car out onto the freeway and caught radio chatter from nearby truckers. He took it to a local parade and was an instant hit. Patch just had to give the car to Johnny Cash. But Patch had a problem: he didn't really know the famous singer.
RELATED: 15 Breathtaking Mics Brought to Life by Country Music Stars
Collection
Bill Patch wanted to pay Johnny Cash his "psychobilly Cadillac" tribute, but had no connection with the superstar. He took a bold approach: he took the car to Nashville, parked in front of the musician's house, and waited. He sat on the wing for several hours before The Man in Black himself finally stepped out and unlocked his front door. Cash was shocked and charmed by the bizarre machine, instantly falling in love. When Patch told him the car was a gift, Cash was speechless. The two would become lifelong friends.
Bill's Lions Club had built a much needed civic auditorium for the town of Welch and was tirelessly raising funds to pay off its debt. When Johnny Cash heard about his friend's benevolent mission, he asked for the capacity of the new auditorium. With 1,000 seats, it would be a smaller show than he ever performed, but he insisted on coming to town with his wife June and playing a series of concerts for free. The Cash family would return to Welch over the years and consider it a second home. During a performance, Johnny Cash led his beloved Bill Patch Cadillac into the municipal auditorium of the Lions Club.
Johnny Cash often sailed in his Cadillac Bill Patch "One Piece at a Time". He even filmed a video of it to play it during his concerts.
After the House of Cash Museum closed, the car bounced from museum to museum. When Bill Patch passed away, his fellow Lions Club members searched for a way to honor his memory. They found her Cadillac on display at historic auto attractions in Roscoe, Ill., So they bought her and brought her back to Welch, Oklahoma. Today you can see his car on display at Storyteller's Hideaway Museum and Farm in Bill Patch's hometown.
NEXT: Johnny Cash's 'One Piece at a Time' Tribute Appears on Craigslist
This is what Tom Hanks drives
About the Author