Best concerts in Phoenix this week: Andrew McMahon, Blue October, Mastodon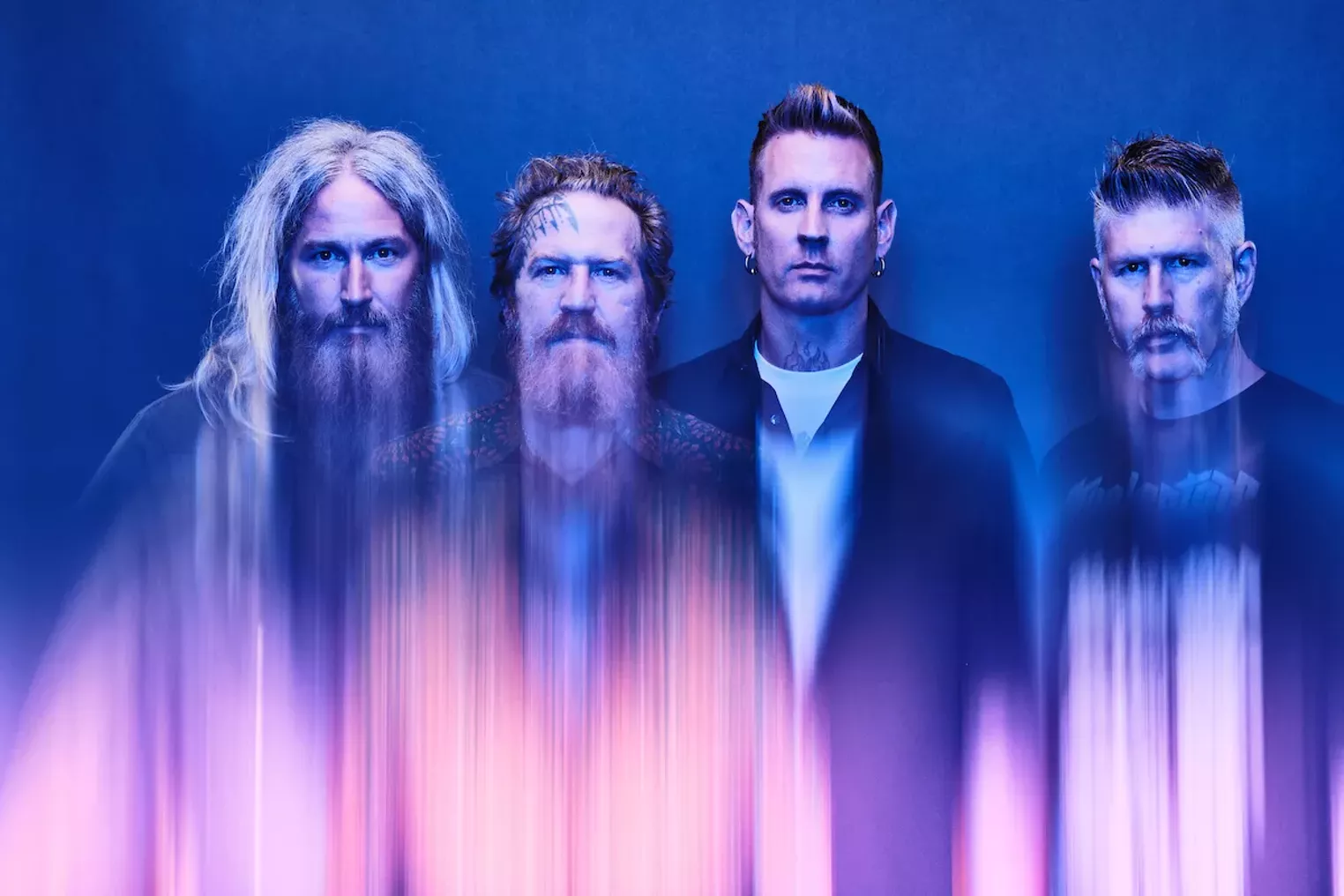 Hope you have some disposable income to spend on concert tickets as a number of notable indie, alternative rock and even ska groups perform in the city this week. The roster includes pop-influenced bands like The Happy Fits and TV Girl, alternative favorites Blue October, and freelance singer-songwriter Andrew McMahon.
You can also experience a double dose of thunderous metal from Mastodon and Opeth, spend an evening skanking at Toasters or slam-dancing to punk sounds unleashed by Off With Their Heads.
Read on for more details on each of these concerts or check out Phoenix New Times'online concert calendar for more musical events this week. Keep in mind, however, that most local venues require proof of COVID-19 vaccination or a recent negative test result to attend shows. You can find more information on the ticketing sites for each concert.

TV girl at Van Buren
Yes The Jetsons were reality, it would be easy to imagine a space age teenager trying to impress Judy Jetson with a mixtape full of TV Girl songs. A Los Angeles-based trio, TV Girl makes music that sounds both futuristic and retro. They mix 60s-style pop melodies with vibrations and electro-dance samples, creating a weird kind of introspective indie dance music. Imagine Belle & Sebastian trying to follow in the footsteps of independent dance-rock acts like St. Etienne and Primal Scream in the Screamadelica era. TV Girl's music sounds so playful and confusing due to their skillful sampling skills. Disembodied voices of yesteryear come in and out of the mix, creating an all-out atmosphere reminiscent of classic sample-rich albums like Paul's shop and 3 feet tall and rising. TV Girl's current tour celebrates her debut album in 2014 French release and comes to The Van Buren, 401 West Van Buren Street, on Monday, November 29. Jordana opens the 8 p.m. show and tickets are $ 22.50 to $ 25. Ashley Naftule

Yucca Tap Room toasters
The Toasters have the distinction of being the first American ska group, even though their leader is of English origin, and have been playing tight and groove riddims since 1981 and shaping a sound that continues today. In many ways, the root-based Jamaican band are caught between the 2-Tone second wave ska revival of the late 1970s and today's more popular third wave ska bands like Sublime. with Rome, Mighty Mighty Bosstones and Reel Big Fish. When Hingley immigrated in 1979, America had not yet been fully introduced to ska, although the scene across the pond was hosted by bands like The Specials, Madness, The English Beat, and The Selector. Working on the 2-Tone model, while adding sharper guitars and an at times more aggressive brass section, The Toasters pioneered an original ska style suited to the American palate. Thirty-five years later, it still tastes good. They are scheduled to perform at the Yucca Tap Room, 29 West Southern Avenue, on Tuesday, November 30, with support from local ska groups 2Tone Lizard Kings and Bowcat. Tickets for the 7:30 p.m. show are $ 15. Glenn Burn Silver
Mastodon and Opeth at the Mesa Amphitheater
Mastodon's most recent record, Calm and sinister, is the kind of album Cecil B. DeMille would love, if he was still alive and in inventive prog-metal. The first double album in the Grammy-winning band's 20-plus-year history is large and dramatic like those CinemaScope blockbusters. Mastodon will perform songs from the album upon its return to the Valley on Tuesday, November 30 at the Mesa Amphitheater, 263 North Center Street, with Swedish progressive metal / rock band Opeth. Calm and sinister features the familiar and catchy guitar work of Brent Hinds and leftover Bill Kelliher, backed by Troy Sanders on bass and Dailor on drums. Thematically, the album is a drama fueled by the feeling of loss but also the promise of hope. If you're planning on attending Mastodon's Mesa Amp concert, the show begins at 5:30 p.m., when the Swiss avant-garde metal band Zeal & Ardor opens. Tickets are $ 46.50 to $ 48.50. Jesse Sendejas Jr.
Happy Fits at Valley Bar
Last fall, NPR rock critic Ken Tucker noted that Happy Fits "are some of the freshest, most catchy pop music around." The New Jersey band isn't exactly new to the music business. Since forming in 2016, the trio, who infuse their blend of folk and indie rock with massive amounts of pop, have racked up more than five million streams with the song "Too Late" and have over 861,000 listeners monthly. on Spotify. And in 2020, the Happy Fits released their second album, What could be better, critically acclaimed. They are back on the road after delays related to the pandemic put their touring plans on hold and will travel to Valley Bar, 130 North Central Avenue, on Wednesday, December 1. Indie rock multi-instrumentalist MAGS and rock band Snarls open their doors to the 8pm show. Admission is $ 20. Kendall Small
Off with their heads at Pub Rock Live

After rescheduling this show previously, the third time will be the charm when punk rock band Off With Their Heads take the stage at Scottsdale's Pub Rock Live, 8005 East Roosevelt Street on Wednesday, December 1. According to local promoter Permanent Vacation, the concert was originally scheduled for October 2019, but has been postponed several times due to the pandemic. Now 25 months and a new acoustic album later, Off With Their Heads is ready to bring what we've been missing for so long. The band's punk rock brand is heavy with singer / guitarist Ryan Young's thundering baritone always seeming to be on the verge of a nervous breakdown. In addition to indie-pop group Slingshot Dakota, power-pop group Supercrush will also perform an opening set. Admission is $ 17 for the 8 p.m. show. (Note: Bands also require proof of vaccination or a recent negative test result.) David Fletcher

Andrew McMahon at the Van Buren
Andrew McMahon is a man who knows exactly where he is, where he has been and where he is going. At the age of 9, he began to play the piano and write songs. It was his EP Pause Loan with his group Something Corporate who first found the 17-year-old a recording contract. A few years later, while at the head of the group Jack's Mannequin, calamity struck. He was diagnosed with leukemia. After more than a decade in remission, McMahon says he still bears psychic scars from the fight against cancer.
His 2016 record, Zombies on Broadway, had the festive vibe of a man who overcame disease. However, in 2018 Flowers upside down, there's more of a nostalgic vibe as McMahon recalls memories of childhood, family, founding Something Corporate, and battling disease. As is the norm for any McMahon project, it involves lively and evocative storytelling. He will perform on Tuesday, November 30 at The Van Buren, 401 West Van Buren Street. Singer-songwriter Annika Bennett opens the 7 p.m. show. Tickets are $ 32.50 to $ 35. David Rolland
Tatsuya Nakatani in trunk space

Tatsuya Nakatani is a sound artist and master percussionist from New Mexico. While so many new / avant-garde music musicians tend to stay rooted in one place, Nakatani is a veteran road dog. He tours the country frequently, either solo or as the leader of his orchestra Nakatani Gong. While he's released a decent amount of recordings over the years, the real magic is watching Nakatani live. It's like watching a painting live: the end result is not the issue; it's the process, the unrestrained tension of watching someone's imagination come to life in a blur of hands and furrowed brows, that makes it worth it. Nakatani is scheduled to perform on Thursday, December 2 at Trunk Space, 1124 North Third Street. Experimental / avant-garde sound art groups Butoh Sonics and Windy Boijen open the 8:30 p.m. show. Tickets cost $ 10. Ashley naftule

Diamond Rio at the Celebrity Theater

Since 1989 Diamond Rio has been made up of the same six members, keeping its sound and style consistent over the past 32 years. The band's 1991 single, "Meet in the Middle," was the very first to debut at No. 1 on the Billboard Hot Country Songs chart. Diamond Rio has also recorded a series of contemporary Christian songs, which lack the band's original harmonies and style. But his most recent album, I did it, released in 2015, is more faithful to the band's traditional country roots. They are scheduled to take place at the Celebrity Theater, 440 North 32nd Street, on Thursday, December 2. Matt Farris will be the special guest and tickets for the 8 p.m. concert are $ 29 to $ 59. Rodrigue Diamond
Blue October at Van Buren
Blue October records have always reflected the mental state of singer Justin Furstenfeld. The band hit hard with angsty tracks like "Hate Me" and "Into the Ocean", which explored drug addiction, suicidal ideation and depression. But since the early 2000s, Furstenfeld – who found sobriety and subsequently peace – has focused on the positive, and Blue October's last three albums have consequently abounded in positive and affirmative messages. They are on tour to support their latest release, 2020's This is what I live for, and will play The Van Buren, 401 West Van Buren Street, on Thursday, December 2. Doors open at 7 p.m. and tickets are $ 37 to $ 40. Matthieu keever