Best New Music Releases – The Suffolk Journal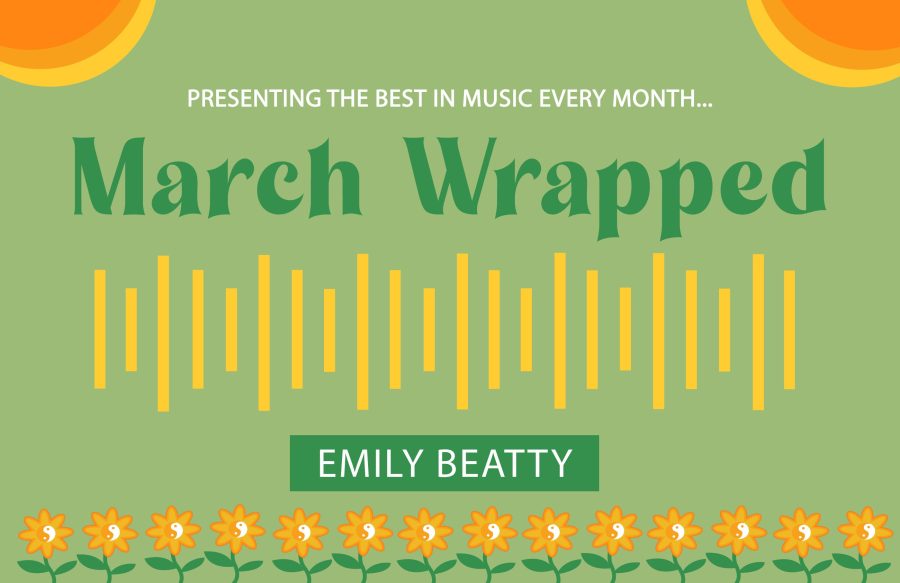 As longer days and warmer weather creep into cold, windy Boston, artists around the world are releasing tracks and albums that will make you want to shed your heavy down jacket and don a baseball cap to attend. at the Red Sox game.
These spring hits are climbing the charts and ending up in dozens of playlists, and you can follow these top new March releases here.
"Sweetest Pie" by Megan Thee Stallion and Dua Lipa
In a surprise duet, pop sensation Dua Lipa teamed up with hot girl sh*t queen Megan Thee Stallion in their joint new track, "Sweetest Pie."
This upbeat track sets the music scene for summer. The fun, synth-heavy backing track is smooth and complements Dua Lipa's alto vocals, and the chorus lyrics are catchy and easy to sing along to, making it a perfect song to blast in the car or on a night out. 'a dancing night,
Megan Thee Stallion does what she does best: her pacing is excellent in the first and second verses. The cheeky rap lyrics are full of innuendo, balanced by Lipa's own songlines that give the song an edge, while making it an easy crowd pleaser.
While the song's overall metaphor is pretty shallow and a bit lacking in the creative department, Megan Thee Stallion and Dua Lipa are a dominant pair, and probably a force to be reckoned with on the charts; I hope there will be another collaboration in the future.
Mainstream Sellout by Machine Gun Kelly
After the huge success of his pop-punk debut album "Tickets to My Downfall", rapper and new rockstar Machine Gun Kelly is back with his second rock album, "Mainstream Sellout".

To be frank: this album does not live up to its debut. It's not groundbreaking, the themes and motifs are mediocre at best, and the album's overall production is just too clean to be a true punk-rock album. Kelly's voice has clearly improved since "Tickets to My Downfall", but that's one of the few bright spots.
The best song from the new album is easily "maybe", which features British rock band Bring Me The Horizon, and the influence of early 2000s alternative rock is clear on this track. Had this influence been seen more strongly throughout the entirety of the album, it might have held up better overall.
The "Wall of Fame – Interlude," featuring comedian Pete Davidson, ends with Davidson saying "Anyway, I hope the next song will be a banger. Eenjoy Machine Gun Kelly's album…What is the album, what are you going to call the album?The interlude then moves on to the next song, which is the album's title track. It was a fun moment for both Davidson and Kelly, and shows the lighter side of the overall darker album.
"Heads Up" by Joey Bada$$
Joey Bada$$ released his single "Head High" on March 3, and he won nearly four million streams during the month.
Bad$$'s rap beat is very similar to that of J. Cole on "2014 Forest Hills Drive". It suits Bada$$'s voice incredibly well, and the little moments where he uses his vocal talent are invaluable on this song. The beat comes from a mix of real drum and synth beats, which is rare to find in such a synth-dominated field of rap.
However, the icing on the cake for this number is the female vocals that are sprinkled in the back track. The contrast they provide is just stark enough to grab the listener's attention, yet balanced enough not to take away the Bada$$ message. They bring a classic vibe to the song, and it comes together similarly to Blackstreet's backtrack and Dr. Dre's "No Diggity."
"Tell Me It's Over" by Wallows
After nearly three years, Wallows released his second alternative rock album, "Tell Me That It's Over."
The group has managed to stay true to their sound despite their growing popularity. At the height of the COVID-19 pandemic, tracks such as "Are You Bored Yet?" and "OK" have become famous as popular sounds on the social media platform TikTok.
"Tell Me That It's Over" has a mix of upbeat indie numbers and softer alternative influences, providing a similar balance to their debut album. The three-man band have clearly improved their songwriting skills and it seems like overall they've had a more hands-on approach to their production, resulting in a cohesive and fun album that's perfect for spring.
"Nude" by FINNEAS
Arrive hot after her first Oscar win with his sister for their song "No Time to Die", the artist Finneas has released his new single titled "Naked".
"Naked" is Finneas' first release since releasing their debut album last year, and it sets a totally different vibe. The song opens, Finneas-style, with a very overdone intro, and the listener wonders if he has entered a spaceship. The level of production, although intense, is not to be neglected: it is precisely what Finneas does best.
Along with the beautifully crafted backtrack, Finneas plays with his vocals in this song. There are tons of different tonal overlays throughout the number, and it's interesting to see this artist step out of his comfort zone in such a new way. If this song sounds like what his second album will sound like, Finneas may have mastered the art of keeping his older fans happy while enticing new ones to listen.
Follow Emilie on Twitter @emilyhbeatty.