Buzzed Lightbeer: Rocking Without Limits | East Bay Express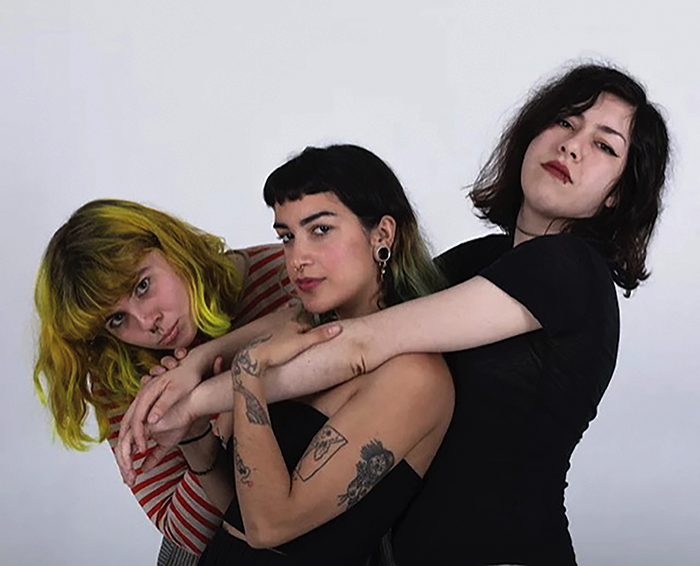 On their first full album, Downtown, the members of Buzzed Lightbeer continue to unleash, with soulful hearts and skeptical senses of humor. "I'm the most optimistic pessimist ever," laughed Gabi Araujo, the band's bassist, "but that's just life, so what can you do?"
Araujo and the other musicians of the trio – drummer Kendall Carroll and guitarist Mia Hillix – deliver lively performances, with energy to spare. They all write songs, sing and contribute to arrangements, bringing a variety of unexpected influences to their sound. "We changed genre a bit, but I think Downtown is cohesive, solid rock 'n' roll," Araujo said. "Someone called us slow-punk, and there's a bit of that in there. A bit of country too, some early French pop influences from Françoise Hardy and a bit of Cramps-style psychobilly on top of that.
"We did the album over a long period of time, during the lockdown and after, but COVID didn't really influence the subject matter. We have to deal with the same things no matter what's going on in the world. I wrote songs that reference the world situation, but none of them were brought to the band for the album.
Since they started playing, the band have released two EPs, the self-titled Buzzing light beer and Hell. They were all recorded on the fly and include some of the band's most popular tracks. "Fat, Pregnant, Stoned" opens with Araujo's driving bassline. Thick, distorted guitar chords and Carroll's basic drumming carry the song to its breathless finale. The surf/pop of "Wish You Dead" might address the suffocating behavior of a relationship gone bad, while "Hell" recalls the ominous sound of Link Wray's "Rumble."
Downtown took shape during the COVID lockdown. Unable to perform live, the band members isolated themselves to write new songs. "I locked myself in my basement and played guitar for hours. Normally we practice once a week and run through a set to make sure it's cohesive and warm up our fingers. If we have to wait a few weeks between gigs, it can be hard to get into the rhythm.
When the trio was ready to record, they asked a friend for help. "Anthony Aragon, the Looseys drummer, put it all together, using borrowed equipment. He recorded and mixed it. We were all friends and vaccinated, so we didn't have to mask up unless someone came into the studio. We did live drums and guitar. Vocals and bass have been layered. It had to be spaced out and recorded sporadically over a few months, so we could juggle our schedules. It was taxing for us to play stuff over and over until it was perfect, but we made it. It was different from the first EP, where we booked a real studio with an engineer and destroyed it in two days. This time we were able to space it out and do a song workshop and see what kind of fun little things we wanted to add.
"We're not rushing to release the album," Araujo said. "We have already released CDs, with a more homemade, very DIY side. This one we do more thoughtfully. We have a friend taking pictures for us, and we're working on a booklet for the inside of the album, with credits and lyrics. We have yet to see how much it will cost to do album covers and such, but we are lucky to have so many good friends to help out.
All the musicians in the trio work hard, maintaining the balance between daily tasks, relationships, rehearsals, school and performances. "I like to see what roads are presented to me," Araujo said. "I work at night and I'm at school, studying psychology. I hope to get into clinical work, but if the band takes off for the stars, that would be cool. I think we mostly have fun being on stage and watching each other grow as musicians. It was super wild.
Buzzed Lightbeer will perform an abortion access benefit concert on September 13, with Wife and Blythe, at The Knockout, 3223 Mission, San Francisco. theknockoutsf.com
They will also celebrate Joan Jett's birthday with The She's at the Balboa Theater on September 22. Balboamovies.com
You can listen to their music on their Bandcamp page: buzzedlightbeer.bandcamp.com
"Speed ​​Dial" will be released digitally on all streaming platforms on September 9.