Difficult decision at Miss Rockabilly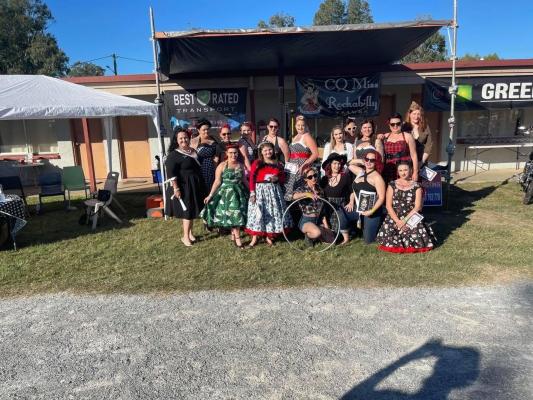 By Nyree Johnson
An exceptional crowd, an array of talent and a tough decision for the judges of the CQ Miss Rockabilly and Miss Psychobilly competition held on Saturday August 21 at the Yaamba Car, Bike and Tattoo Show.
Rockabilly Event Organizer Emma Dufficy coordinated a beautiful and spectacular event among noteworthy bikes, cars, burnouts and tattoos, showcasing the beautification and talent of our local Rockabilly women and girls .
Intending to raise at least $ 1,000 for the Women's Health Center in Rockhampton, Emma was delighted that this had been far exceeded, reaching a total of $ 1,510.
Over $ 800 was raised through raffles thanks to prizes offered by local businesses. Additionally, an auction was featured and facilitated by the Red White Blue Social Crew in partnership with Fatso, owner of the Yaamba Royal Oak hotel, bringing in an additional $ 700.
With 14 entrants, three judges and over 35 local businesses sponsoring the event, a fun afternoon was delivered, with the CQ Miss Rockabilly program hosted by the charming and energetic Miss Cherry Bombshell, winner of the 2020 contest.
The contest was a fantastic event encouraging women of all shapes and sizes to try something new and step out of their comfort zone. From newbies to seasoned newbies, it was a great afternoon of fun, socializing and meeting new friends.
Each winner, finalist, audience chosen recipient and all participants received a fantastic collection of gifts and prizes donated by local businesses.
The judges for the event were Little Mick, aka Mick Kosenko of Koolsville Studios in Brendale, Tegan Von Allen of Atomic Vintage in Rockhampton and Nyree Johnson of Johnson's 4WD Repair Shop in Rockhampton.
The CQ 2021 Miss Rockabilly and Miss Psychobilly winners and finalists were:
CQ Miss Rockabilly Winner: Miss Elle Deville; finalist: Miss Bettie Lou
CQ Miss Psychobilly Winner: Luna Vertigogo; finalist: Trixie The Zombie
The audience's choice went to Miss Tazzie Divine and Miss Sergeant Sweetheart, with a special mention to Lil Miss CQ Rockabilly, Miss Cupcake, 10.
The event is set to be bigger and better next year, with event organizers Emma and her team already reviewing this year's event and planning for the next one. If the classic Rockabilly style interests you or someone you know, start planning your outfit now.
To stay up to date and see all the photos and supporting companies from this year's event, visit the @CQMissRockabilly Facebook page.
Profits collected for the Women's Health Center in Rockhampton were given on Tuesday August 24th to very grateful beneficiaries. The funds will be used to support victims of domestic violence and sexual assault supported by the center.