Film Minis for the week of July 1st | Culture & Leisure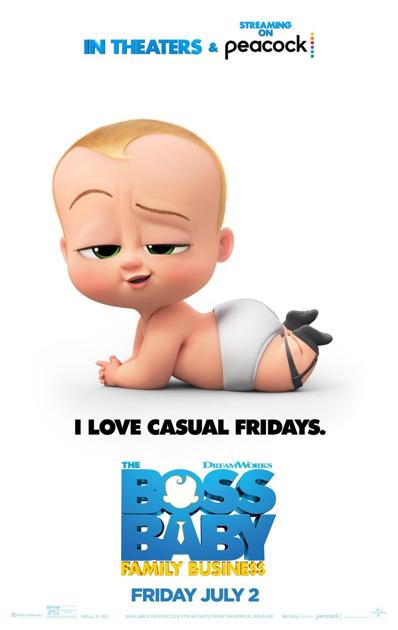 OPENING
"The Boss Baby: Family Business" – (Animation, PG, 107 minutes). A new baby boss brings together the adult Templeton brothers and inspires a new family business.
"The Purge Forever" – (Action, R, 103 minutes). The Annual Purge doesn't end at daybreak because lawless marauders have decided it should never end.
"Summer of Soul (… Or, when the revolution couldn't be televised)" – (Music, PG-13, 117 minutes). A documentary on the 1969 Harlem Cultural Festival that promoted black pride and unity with African American music and culture.
"Zola" – (Comedy, R, 90 minutes). A stripper goes on a wild trip to Florida.
IN PROGRESS
"12 Mighty Orphans" – (Story, PG-13, 118 minutes). A high school football coach leads a team of orphans to the state championship during the Great Depression and, along the way, inspires a shattered nation.
"A Quiet Place Part II" – (Horror, PG-13, 97 minutes). Note: C-, Katie Walsh. As the Abbott family struggle to survive in silence, they must go to the outside world and realize that there are more creatures beyond the Sandy Path than those that hunt by sound.
"The Conjuring: The Devil Made Me Do It" – (Horror, R, 112 minutes). Grade, B +, Katie Walsh. A murder that could be linked to demonic possession is under investigation by the Warrens.
"Cruella" – (Comedy, PG-13, 134 minutes). Grade B-, Katie Walsh. A prequel film set in London's 1970s punk rock revolution follows a young Cruella de Vil.
"F9: The Fast Saga" – (Action, PG-13, 145 minutes). Rating: B +, Katie Walsh. Dom and his crew must stop a heartbreaking plot led by skilled assassin and high performance pilot Jakob, who is Dom's abandoned brother.
"The bodyguard of the hitman's wife" – (Action, R, 116 minutes). Note: D, Katie Walsh. A bodyguard and an assassin try to save the assassin's wife.
"In the Heights" – (Drama, PG-13, 143 minutes). Grade A, Terry Terrones, The Gazette. A store owner saves all his money and imagines and sings about a better life.
"Minions (2015)" – (Animation, PG, 91 minutes). The minions are recruited by a supervillain to help take over the world.
"Peter Rabbit 2: The Runaway" – (Animation, PG, 93 minutes). Peter creates chaos when he gets bored of garden life and heads to the big city.
"Scott Pilgrim vs. the World" – (Action, PG-13, 112 mins). Bassist Scott Pilgrim must defeat his new girlfriend's seven ex-boyfriends who are determined to take him down.
"Spirit Untamed" – (Animation, PG, 87 minutes). Grade, B, Katie Walsh. When Lucky Prescott leaves town for a small town, her life changes forever when she befriends Spirit, a wild mustang.
"Trolls World Tour" – (Animation, PG, 90 minutes). Queen Poppy and her friends try to save the Trolls when the Hard Rock Troll Queen tries to take over the Troll Kingdom.
"The Werewolves Inside" – (Horror, R, 97 minutes). A snowstorm has trapped residents of the divided small town of Beaverfield, as a ranger and postal clerk attempt to uncover the truth behind a creature that is terrorizing the community.
"The wrath of man" – (Action, R, 108 minutes). H works with a cash trucking company and his job is to move hundreds of millions of dollars around Los Angeles. While working, he secretly searches for the people who murdered his son and plans to set traps until his son's murderers are found.
(Editor's Note: Please contact individual theaters for times.)
COMPILED BY GAZETTE