Flogging Molly | Vina Robles Amphitheater | 09/22/22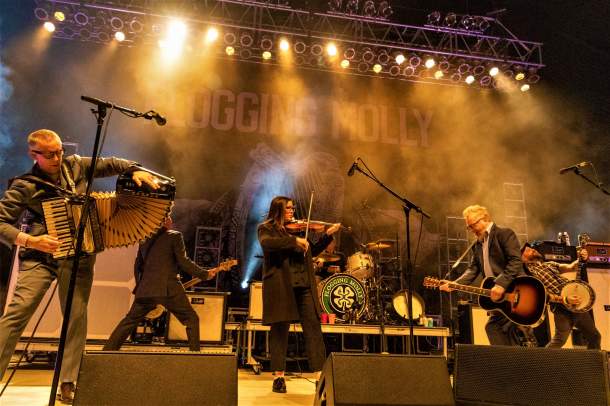 On a beautiful late summer evening on September 21 Flogging Molly led an energetic line of 4 bands of mosh-inducing bands at Vina Robles Amphitheater. The music started early while a warm afternoon breeze kept temperatures pleasant at the site. Opening the show, The Skints, a young English reggae punk band with boundless energy. Much like headliners Flogging Molly, The Skints tour tirelessly, honing their exquisite musical skills on the road. Vocalist Marcia Richards has displayed remarkable skills on a wide range of instruments including keyboards, alto saxophone, melodica, flute and guitar. The band encouraged an early mosh pit, which unlike most venues is not prohibited at the Vina Robles Amphitheater during concerts offering a general admission pit.
After a short break, Los Angeles psychobilly band Tiger Army ramped up the energy and tempo in the crowd. The power trio led by vocalist and guitarist Nick 13 unleashed a series of quick and well-received tunes. The floor area largely became a dance floor at the end of the mind-blowing set.
Co-headliners The Interrupters took to the stage as the late summer sun began to paint the surrounding mountains in pastel colours. Although the group has been together for over a decade, they are still emerging as new faces in the music world. The band, reminiscent of an early No Doubt, played a dance-infused set of explosive ska-inspired beats. The Los Angeles band included songs from most of their catalog, including "She Got Arrested" by Say it out loud and end the set with "She's Kerosene" by Fight the good fight. The band also included a ska-infused version of Billie Eilish's "Bad Guy."
As the summer night air cooled and stars filled the sky, Flogging Molly exploded onto the stage in a cacophony of light and sound. The Celtic punkers opened their set with one of their biggest hits, "Drunken Lullabies". The floor area was instantly transformed into a giant mosh pit that would continue to grow throughout the performance. Mercurial singer and guitarist Dave King, who recently turned 60, danced on stage like a drunken teenager in an Irish pub. Meanwhile, the seven-member band played manic punk-infused beats with pure Celtic roots. The set consisted of drinking songs with themes of hope, loss and love. King spoke frequently to the public, paying homage to the growing mosh pit early on. Later in the set, he stopped for a political moment, calling out Putin and asking the crowd to give the Russian leader and most obligated the middle finger. Then the band launched into "A Song of Liberty". The 4-band mosh-inducing marathon ended just before 11 p.m., nearly 6 hours after it started.