Live Report: Two Nights of The Road To The Great Escape at Whelan's with The Scratch, Baby Queen, Kynsy and more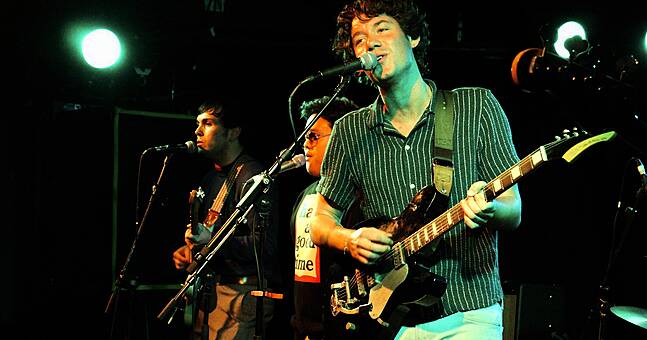 Last night marked the end of this year's Dublin live music showcase, The Road To The Great Escape, featuring some of TGE's burgeoning talent. Held at various venues across the city, Whelans hit the variety jackpot with sets from The Scratch, Kynsy, Baby Queen, Stone and more.
The Road To The Great Escape's first night at Whelan's kicked off with a raging taste.
Brothers Ulrich Layne and Miles, known together as Taipei Houston, didn't sound like much from the jump: they were just two, with Layne on bass and vocals and Miles on drums. They couldn't worry about being subtle to defy expectations; their sound was expansive. Miles destroyed the drums with his own guitar recordings functioning as a backing track, proving nothing was missing from Taipei Houston's deceptive appearance. The highlight of their set was a virtuoso cover of The Beatles' "Eleanor Rigby," which sounded almost nothing like the original, which made it all the more memorable. The brothers haven't released anything to streaming services yet, but Miles hinted that they "just finished recording a debut album." Their own unreleased song "Respect" was an intensely brooding and overflowing spectacle. The dynamite duo delivered the kind of breathless performance that left drummer and audience breathless, but hopeful in Taipei Houston's potential to bring back a sound many mourn the loss of.
Every songwriter has something to sink their teeth into, but Stone's frontman Fin Power has the passionate personality to deliver sharp and cutting messages about Gen-Z culture and the digital age. Hailing from Liverpool, the quartet took to the stage and plunged into a bass operation, saturated with reverb and ringing. As a vocalist, Power was part singer, part spoken word poet, dipping into a charged conversational tone before escalating into appropriately post-punk beastly rage. Their instrumentals were so in sync it was almost an assault; Power had the vocal prowess to adapt to their unprincipled sound, tackling complex issues ranging from social media ailments to the pain of growing up. He was sarcastic more often than not, proclaiming on 'Stupid', "I don't need you to help me, I can handle things on my own with change in my pockets and lyrics on my shelf." Despite energetic guitarist Elliot Gill's robust and alarming riffs, Stone produced post-punk music you could dance to – an achievement the crowd quickly picked up on.
The last performance started before The Scratch even took the stage. A noticeable energy shift ran through Whelan's that brought the masses to the fore, crowding every corner of the dimly lit space. By the time the Dublin quartet sat down for their acoustic set, the crowd was shrill, with many loyal fans wearing merchandise from previous The Scratch shows. The Scratch exuded the energy of a heavy metal set, but I was most impressed by the high-pitched harmony of their layered vocals and driving instrumentals. Guitarist Dock was lightning fast on the strings, weaponizing an acoustic guitar, while Cajun vocalist/player Lango laid down a beat so vigorous I half expected the stage to crumble. . They reflected the energy of their ungovernable crowd in every way, urging everyone to "Put those riders to good use!" during the "Pull Your Jocks Up" anime. Despite a short half-hour set, The Scratch left behind a buzzing liveliness for everyone within earshot.
Returning Tuesday night, Hawaiian boy Eli Smart and his entourage set the mood with tropical indie soul and an undeniably infectious energy. He sat down with a steel guitar (in true island style) for Smart's latest single, "AM to PM," an unexpected blend of soulful tropicana and Prince vocal tenor. They looked like tanned, carefree, nostalgia-inducing youth; an unfortunate chord progression didn't seem to exist for Smart and his band of five as they floated from the lofty "No Destination," full of muted textured reverb, into the more jovial "Highschool Steady." Smart showcased his talents as an instrumentalist, ending the set with "Come on, Come on, Come on" and drawing a stinging electric guitar solo.
When Scottish singer-songwriter Dylan Fraser stumbled onto the stage to a divisive EDM backing track, I couldn't expect a set jam-packed with illuminating alt-pop textures and vocal depth. Off his debut EP, "Storm" was a dark and seductive interlude, followed by "I'd Rather Be Here," which Fraser shared after a mostly negative relationship. His instrumental sound, accompanied by a guitarist, drummer and a practical 4-track, brought together white and black noise with sleek synths complemented by Fraser's deep, guttural vocal range. He undressed the production of "Gucci Sweater". With just his voice atop melodic acoustic strings, the singer-songwriter crooned between choruses, culminating in a soft fade. His latest single, "Apartment Complex on the Eastside", was lyrically complex but carried an upbeat, progressive bassline that made Fraser's finale a cinematic crowd pleaser.
Hard to narrow down to just one genre, Kynsy – a Hot Press 'Hot For 2020' act – offered a bit of everything for every ear. With a unique voice that went from light and fast to erupting from inside her chest, the Irish singer-songwriter provided a fun mix of rebellious girl and alt-pop energy. She moved effortlessly from the unstable, industrial sound of "Elephant in the Room" to the groovy, multi-layered "Happiness Isn't A Fixed State," which showcased the artist at his true worth. "I have so much to feel," Kynsy repeats over a nifty, groovy guitar stab. Audiences released a trusted concert lore for their latest model track, "Cold Blue Light," as a wave of phone flashlights lit up in slow syncopation.
Baby Queen was the icing on the showcase cake, the epitome of anti-pop. Showing up before her set started, she gave her audience a little taste in the form of a brief sound check, chatting with the crowd in a laid-back, conversational tone – as if we were all her friends the closer. "I don't have a band with me tonight, so we're all in this together, okay?" she announced before disappearing, only after shouting, "Now it's time to bring in those shots of Baby Guinness. Sláinte, ladies, Sláinte!" With one of the most acclaimed debut albums of the last year, it was no shock that Baby Queen returned with a standout show, band or no band. His lines were a megaphone for relatable cultural antics; on "Internet Religion," his mostly Gen-Z crowd shouted in raucous agreement with the line, "That's fucking cool, it's a shame we can't customize Facetune's personality." The blonde anti-pop starlet with the pale pink guitar was talkative and engaged, adding as much to the piece with her music as with her personality. After an audience member placed three shots of Baby Guinness on stage, Baby Queen had no choice but to shoot them down one by one, waving to the crowd between each song. "We're so busy worrying that other people are perceiving us. Nobody really gives a damn, you know what I mean? she said ahead of her new song, "Nobody Really Cares." Her sound exuded bubblegum pop without the unnecessary fluff, latent with heavy choral hooks and energetic guitar playing, cementing Baby Queen's status as a leading woman in a new wave of pop potential.
Two nights of Road to The Great Escape flew by in a flash at Whelan's. We have been gifted with an array of new artists to follow and an exciting adventure in new sound channels. Until next year!
Check out the rest of the Hot Press coverage of Road to The Great Escape around Dublin.