Post-punk rockers Viagra Boys and Shame lay siege to Brooklyn Steel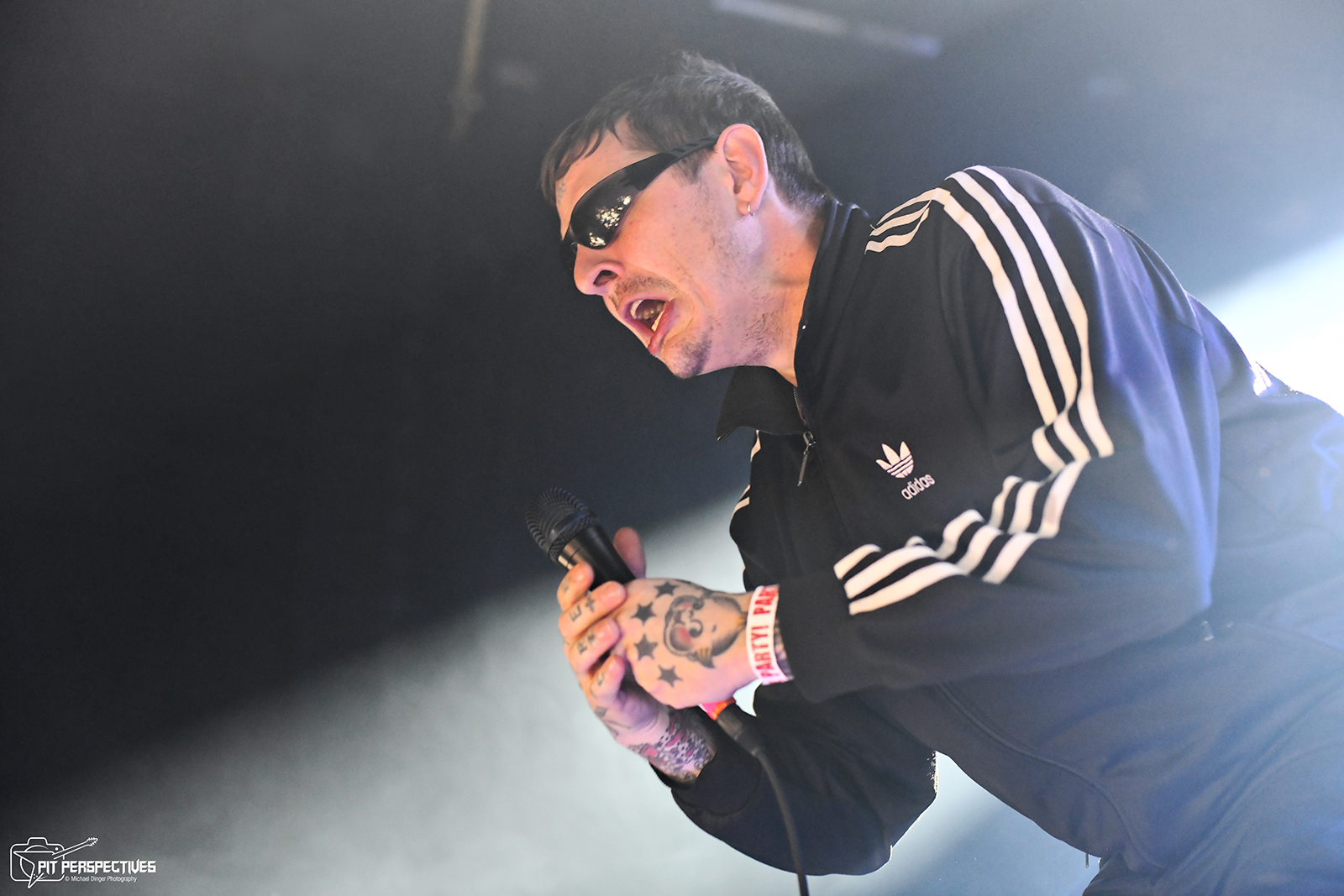 A shining beacon in the Williamsburg neighborhood since opening in 2017, the 1,800-capacity structure originally occupied as a steel fabrication plant, Brooklyn Steel, has hosted post-punk rockers Viagra Boys and Shame for their solo show in New York on Tuesday evening, October 18.
The Viagra Boys, from Sweden, are on tour in support of their third studio album, cave world, published by Year0001 last July. Written during the COVID-19 pandemic and recorded last winter at Silence Studio and RMV Studio, the album was produced by Pelle Gunnerfeldt and DJ Haydn.
Shame, an English band from south London, joined Viagra Boys on the bill as co-headliners. Their first album (songs of praise) was released in 2018, followed by Pink Drunk Tank Top in 2021 – both to critical acclaim via Dead Oceans, an independent record label based in Bloomington, Indiana.
Supporting the co-headliners were Los Angeles-based trio of talented young rockers, Kills Birds, led by Nina Ljeti (Bosnia-born whose family escaped to Canada soon after the start of the Bosnian War), as well as guitarist Jacob Loeb. and bassist Fielder Thomas. Formed in 2017, they released their self-titled debut album in 2019 on KRO Records. Their second album, Marriedwas recorded at Dave Grohl's Studio 606 (by invitation of the man himself) and released last year.
Taking the stage at 7:30 p.m. sharp, Kills Birds played a relentless electric set for just over 30 minutes. Performing songs embodying a hybrid style of new wave punk and grunge – such as "Jesus Did", Volcano, "Natalie", "Cough Up Cherries" and "Offside" – Kills Birds captured our collective attention with intense intensity. visceral led by Ljet. energetic presence on stage. Combined with Loeb's searing riffs and Thomas' punchy bass lines, Kills Birds have an undeniable chemistry that's sure to lead them on the path to a bright future.
Formed in 2015 and with three studio albums to their name – street worms (2018), Jazz Wellness (2021) and previous cave world – The Viagra Boys have already earned a reputation as a shameless live band. Led by frontman Sebastian Murphy (originally from California), whose bawdy stage persona has led to comparisons with iconic artists Iggy Pop and Nick Cave, the sextet is rounded out by Henrik Höckert (bass), Tor Sjödén (drums), Oskar Carls (saxophone), Elias Jungqvist (keyboards) and Linus Hillborg (guitar).
With Viagra Boys and Shame spilling their order every night of the tour, it was the boys from Stockholm who got up first. Own a vocal style atypical of that of the everyday punk frontman, with shouts and shouts kept to a minimum, Murphy delivered the first offering of the evening ("Ain't No Thief" by cave world) in his monotonous, tongue-in-cheek way. His lyrics are both cerebral and surreal, often drawing on themes of drug addiction mixed with satire. Viagra Boys songs often invoke crude imagery, as evidenced by newly baptized fan favorites also performed tonight from cave worldincluding "Troglodyte" and "Punk Rock Loser".
As usual, Murphy played most of the hour-long set bare-footed and shirtless, flaunting his tattoo covered (he's also a tattoo artist by day) and his bloated beer belly. A driving force behind the group, Murphy addressed the eager crowd on more than one humorous occasion:
Listen to people. It's fucking beautiful to be here. I literally felt like an olive marinated in horrible alcohol this morning when I woke up. And I thought I was going to cry before the show. I was like, fuck I can't do this man! I no longer have it in me! But then I come here, and I see all your fucking pretty faces, it gives me a reason to live another day and go back to Switzerland where I have seven beautiful dogs and a fiancé. [I've also got] a couple of gerbils. One of them disappeared recently, I won't say where.
It's probably a little confusing for some of you here tonight who were at the last show in Brooklyn. 'Cause back then I was incredibly handsome [with] the perfect specimen of a body. It was then, on the US tour, where I occasionally tasted fried food, and had sweets and the occasional beer. And, I became a bit of a big boy. But I'm proud of myself.
Viagra Boys' 12-song set closed with the absurdly hilarious "Sports" and "Shrimp Shack" (a Swedish idiom for someone who didn't have to work hard to get where they are), all two of their first album (street worms) in 2018. In just a few years since that time, the Viagra Boys have crafted a cheeky palette of highly intoxicating punk melodies that often feature frenetic guitar shredding, heavy drum beats, meaty basslines, style keyboards jazz and saxophone solos.
In perfect harmony with the Viagra Boys, Shame is the British quintet composed of Charlie Steen (vocals), Sean Coyle-Smith (guitar), Eddie Green (guitar), Charlie Forbes (drums) and Josh Finerty (bass). Formed in 2014, around the same time as their touring mates, Shame took the stage around 9:45 p.m. to Zac Brown Band's "Chicken Fried" playing over the house PA system.
In keeping with the tradition of his native post-punk predecessors (the original wave formed in the late 1970s), Steen exudes a magnetic stage presence that demands your attention. Tuesday night, when he wasn't smoking a cigarette in the middle of a song, inciting mosh pit or crowd surfing, Steen lurked along the stage apron with sweat streaking down his cheeks or smiled at teammate Finerty after landing another of his signature one-hand flips (while still holding his bass!).
Shame played their entire 14-song distortion-filled set with unbridled emotion that could only be accomplished by a band that found success amidst a grueling and relentless touring itinerary. Shame's night highlights included back-to-back presentations of 2018 tracks songs of praise – "One Rizla" (presented by Steen as "the first song [they] never written") and "Angie" for the first time on the current tour. With the emergence of post-punk peers IDLES and Fontaines DC in recent memory, now is the time for Shame to break through with his own brand of loud and abrasive punk anthems.
Concluding their US tour in Dallas, Texas at the end of the month, the Viagra Boys will be heading to a slew of dates that will take them to Primarvera Sound in São Paulo, Brazil (November 6), followed by stops in Mexico. , Germany, Netherlands, France, Italy, England, Scotland, Ireland, Wales, Denmark and finally Norway (March 30, 2023). Next up for Shame will be a well-deserved break, before embarking on a trip to Mexico City for the Hipnosis festival on November 5.
Viagra Boys Set list: Ain't No Thief > Ain't Nice > Troglodyte > Punk Rock Loser > Return to Monke > Secret Canine Agent > Slow Learner > Worms > Big Boy > Cold Play > Sports > Shrimp Shack
Shame Setlist: Dust on Trial > Alphabet > Fingers of Steel > Concrete > The Lick > Six Pack > Tasteless > Adderall > Born in Luton > Burning By Design > One Rizla > Angie > Water in the Well > Snow Day
kill the birds
Viagra Boys
Shame