SPIRITS: Boycott Russian vodka; we have ours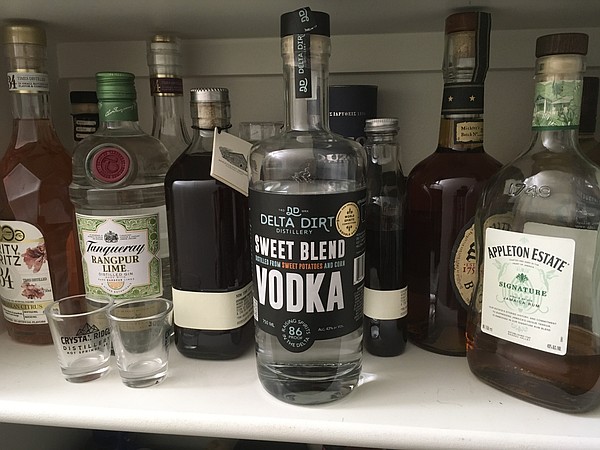 In solidarity with the people of Ukraine, all Russian vodka is being removed from the shelves of my favorite liquor store.
It may be an admirable gesture, but it seems unlikely to impose difficulties on most vodka drinkers. Russian vodka only makes up about 7% of the market, and much of what you might think is Russian really isn't.
Smirnoff, for example, is an American brand. The only link it has with the old country is that its name alludes to a Muscovite distillery opened in 1864 by PA Smirnoff. But after the Russian Revolution, PA's son Vlad fled the country and opened a distillery in France. Operations are now based in Illinois, and Smirnoff is actually owned by British spirits conglomerate Diageo.
Stoli, which was pulled from some shelves and dumped down the drain in protest in some localities, but not in my local store, isn't Russian either, although it started in Russia around the turn of the 20th century .
There is also a confusing story here. Stoli was then known as Stolichnaya, a brand that is still manufactured and distributed by the state-owned Soyuzplodoimport (the name literally translates to "union-fruit-import"). Even after the fall of the Soviet Union, the company remains state-owned.
But in 1997, the president of Soyuzplodoimport, Yuri Shefler, a billionaire with Russian, British and Israeli nationalities, decided to create a private company based in Luxembourg and called "Soyuzplodimport", which is exactly the same as the state company, except to remove the extra "o". Confusing? This is how we do business in Russia, comrade.
In fact, Soyuzplodimport was so close to Soyuzplodoimport that people started calling the old one the SPI group. And Shefler, as head of SPI, paid Soyuzplodoimport, the company of which he was president, some $300,000 for 43 brands of Russian vodka, including the Stolichnaya and Moskovskaya brands. It was a good deal, because the Russian "Audit Commission" estimated that these marks were worth more than 400 million dollars. (Disinterested analysts put their value closer to $1.4 billion.)
MOVED TO LATVIA
So Russia declared the sale illegal in 2001. But Shefler moved its operations to Latvia and SPI continued to sell a vodka they called Stolichnaya. Soyuzplodoimport too. (The legal battle, fought country by country, continues to this day.)
Then, earlier this year, after Vladimir Putin invaded Ukraine, SPI rebranded its flagship vodka to Stoli as a "direct response to Russia's invasion" and stopped using Russian ingredients in its production. So Stoli is a Latvian product, and Latvia is a member of NATO, opposed to Russian aggression.
So Stoli is OK, whereas if you come across a bottle labeled Stolichnaya, there's at least a chance you have real Russian vodka. (Other real Russian vodkas include Russian Standard, Beluga Noble, Husky Vodka, Jewel of Russia, Polugar, Ustianochka, and Zyr.)
While most vodka drinkers I know seem to equate neutrality with equality – France's super premium gray goose, which tastes like a pale ghost whisper, is the epitome of this type of vodka – there are those who insist that Russian vodka sets the standard for the world. And maybe there is, because there's an unmistakable robustness to Russian vodka, a breadth sometimes heightened by hints of pepper and wild herbs. It's best to drink cold from the freezer – back when I was having fun with vodka, we always kept a bottle of the now discontinued Stolichnaya Cristall in the back of the ice cube trays.
On the other hand, I once spent a grueling 18 hours debriefing a Russian man, son of notorious defector Viktor Kravchenko, immediately after his release from a Soviet prison and rushing to the United States. I remember he was disappointed that we bought Russian vodka to celebrate his release. He said he preferred Polish vodka and settled for Jack Daniels on the rocks.
It turns out that I also prefer most Polish vodkas to Russians. I like the earthiness, the grain, the terroir of the potatoes.
NOT COMPLICATED
Vodka is not a very complicated spirit – you can make just about anything with it.
We make it from wheat, rye and corn. We make it from potatoes and sugar beets. Cabbage. Products of petroleum refining (true – prison vodka). Remaining copies of Philip Roth's biography of Blake Bailey. (Also true.) In a pinch, you can do this with sugar and yeast.
Vodka is basically distilled water with ethanol, which some people say has no taste. (Others say ethanol tastes bitter and/or slightly pungent; no one is wrong, our taste buds are calibrated differently.) Generally, the more expensive it is, the less flavorful the vodka.
My theory is that vodka is the most popular spirit in America because you can infuse it with anything from raspberry to bacon. (I've had chocolate-infused vodkas.) Some people like vodka because it goes well with lemonade and black coffee. We used to dose our Slurpees before high school class (not recommended). In many ways, vodka is the perfect potion for people who like to get buzzed but don't like to drink.
And because you can make vodka from just about anything, it stands to reason that you can make it almost anywhere. Poland. Russia. Ukraine. Texas. Behind the chest of drawers in Timmy the Punk's cell. Even Arkansas.
We don't drink vodka as much as we used to, but we usually keep a bottle of Rock Town's popularly priced product. And a few weeks ago, at the Second Friday Art Night at the Arkansas Historical Museum in downtown Little Rock, we sampled sweet potato vodka from the Delta Dirt Distillery of Helena.
Our columnist Rex Nelson has, at least twice, written about how Harvey Williams, a third-generation black farmer, and his wife, Donna, came up with the idea of ​​producing high-quality spirits from sweet potatoes. that grow on his family. farm near Rondo.
THEY CAME BACK
Harvey was a graduate of the University of Arkansas, and he and Donna moved across the country to take jobs in the food industry. In 2016 they returned to Arkansas and over the next two years researched and developed plans for a distillery that would utilize the available harvest. Williams' son Thomas was sent to school to return as chief distiller. After about a year of steady sales, Delta Dirt branched out into gin distillation; the bourbon will come later.
The Williams weren't the first to make sweet potato vodka – I remember hearing about a California-based distillery that made sweet potato vodka about a decade ago. years, and a quick internet search yields several other examples – but Delta Dirt is the first one I tried.
I like it. The sweet potato flavor, which really comes across as a sweet potato flavor (like a refined version of one of Say Macintosh's famous pies), gives it a warm roundness that sets it apart from the lighter super premium ones.
It doesn't have the dirty wang (which by your expectation isn't necessarily bad) of a raw, fluffy Polish Potato Vodka. There is a distinct character, a silky smoothness. Unlike some vodkas, we can say that Delta Dirt has a real nose.
And although there is an unmistakable touch of sweetness, the vodka is not sickening. It's a good vodka martini, which means you can enjoy it neat and cold. And if you can do that, you can mix it with anything.
LOW IN SUGAR
As I understand it, sweet potatoes are relatively low in sugar and starch and require more time and energy to break down than regular potatoes. It takes almost twice as much sweet potatoes to produce an equivalent amount of alcohol as regular potatoes, and it takes longer. But the Williams have access to plenty of sweet potatoes, which keeps the price of production low, allowing them to price the vodka at $30.
The most important feature of any drinkable alcohol is the story the brand can tell. The story of Delta Dirt is authentic, that of a black family struggling in one of the poorest areas of America to build a grassroots business that relies on locally sourced ingredients.
Then the boycott of Russian vodka should not bother you at all.
E-mail: [email protected]