The 13 Greatest Uses of the Harmonica in Rock and Metal – Kerrang!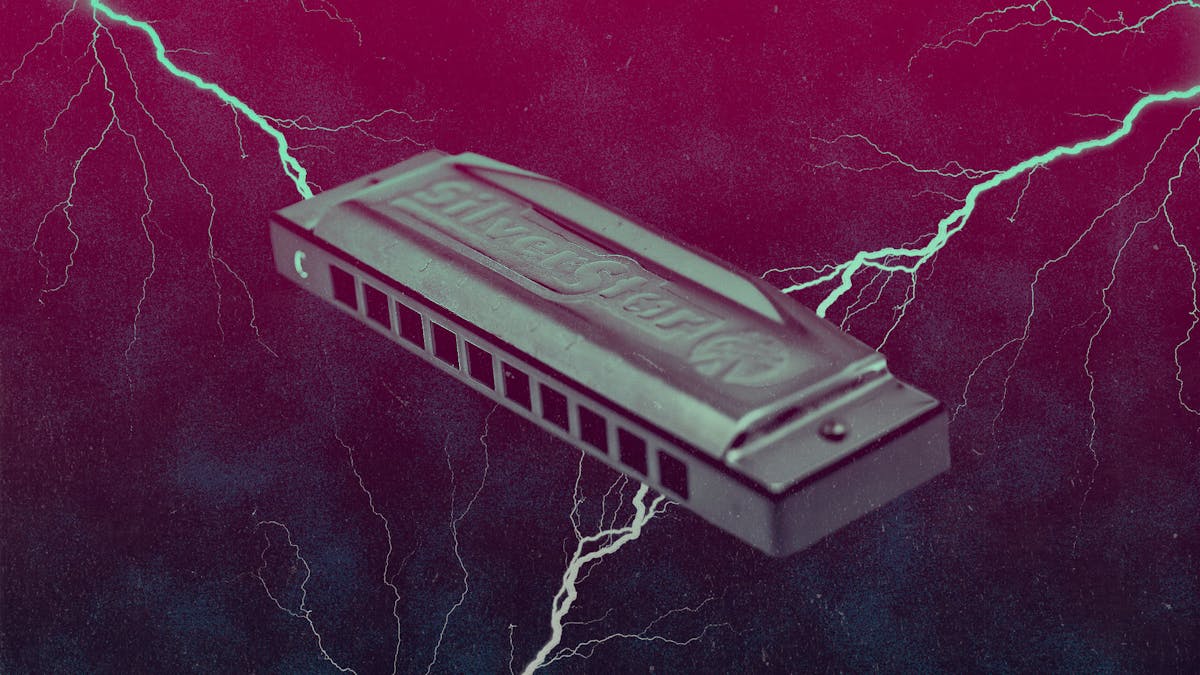 It is said that the harmonica (A.K.A mouth organ, A.K.A French harp) is the easiest instrument to play – mal. A favorite of blues musicians and acoustic singer-songwriters looking to adapt to their catchy compositions, it's an easy-to-learn but notoriously difficult-to-master: a small bundle of music capable of generating a major power. As you might expect, it has often been borrowed by the fast, loose world of heavy music over the years, with an often squeaky and at times iconic high.
We dug deep here, choosing 13 of our favorite songs from the last five decades and a bit, in genres as diverse as punk, metal, industrial and good old blues rock. Here's to hearing a lot more harmonica further down the line…
13. Foo Fighters – Another round
Foo Fighters' 2005 double-album was defined by the division between its electric one-side and its acoustic two-side. Another Round was one of the latter's lesser-praised tracks, but its history of staying true to the ones you love through thick and thin still sounds like a particularly poignant statement from a band that stood just at dawn. of world fame at the time. The long, low-key two-and-a-half-minute harmonica solo was performed by New Jersey filmmaker Danny Cinch, who also later directed the Foos' 2006 Skin And Bones Live DVD. Easy going class.
12. Orange Goblin – Beginner's Guide to Suicide
It's hard to say that London stoner-metal legends Orange Goblin were influenced by Black Sabbath and, in turn, the swampy blues-rock traditions from which the metal genre was born. The final track of 2007's Healing Through Fire saw the band plunge completely back into that territory for an eight-minute epic, which also touches country and bluegrass before coming to life in a groovy way. Harmonicas are provided by Jonny Halifax (from Honkeyfinger and Jonny Halifax & The Howling Truth), offering an energetic counterpoint to some edgy guitars. An ingenious development of OGis already massive sound.
11. Pearl jam – Smile
The mouth organ proudly sits in front and in the center of Pearl Jam's fifth track's famous diverse fourth album No Code. Its road-worn aura of melancholy – the sound chosen by so many transients that jump on trains – makes the instrument feel like a natural fit for one of the biggest bands of the grunge generation, all also hinting at the folkloric and bluegrassy sounds that the band and frontman Eddie Vedder would experiment with in the decades that followed. There's some jagged irony in here like Eddie asks, 'Doesn't that make you smile?', but it's hard not to feel a little warmth in her soul.
10. The Clash – (White Man) at Hammersmith Palais
Originally filed as side B for the 7The Prisoner's single ‑inch, (White Man) In Hammersmith Palais was one of the most complex compositions of the early years of legendary London punk The Clash. On an easy ska beat, his indictment against the watering down of British reggae (as perceived by singer Joe Strummer), and then against the political state of the country as a whole, unfolds with a feeling of tired resignation, but the guitarist Mick Jones The harmonica solo ends with a glimmer of hope and a touch of heartfelt urgency.
9. Guns N 'Roses – Bad Obsession
Although he was not committed to record until 1991's Use Your Illusion I, Bad Obsession would date back to the early days of Guns N' Roses, co-written as a chronicle of their insatiable narcotic appetite by guitarist Izzy Stradlin and friend of the band West Arkeen, who would himself die of a overdose in 1997. There is real outlaw energy in bluesy and country-fried composition, with Hanoi Rocks frontman Michael Monroe dropping not only a brilliantly catchy harmonica, but a cheeky saxophone as well.
8. Moțrhead РThe brothel blues
Approaching their 30e anniversary as a band, iconic English hellraisers Motörhead thought they were going to try and change it for the end of the underrated seventeenth album, Inferno. With all three members switching to acoustic guitar for a composition that sounded like pure country outlaw, and Lemmy doing an impressive Johnny Cash impersonation on lyrics like 'We come blazing like a shooting star / We light you up really well', they handled it with characteristic badass verve. The leader's conclusion, towards the end, that, 'The only thing missing / It's a bit of mouth harp blues'follows with a brilliantly disposable solo. Very cool.
7. Volbeat – Heaven nor hell
Speaking of Johnny Cash's influence on the heavy music world, she was always present in the psychobilly tendencies of the Copenhagen Volbeat hard-rockers. The third single from 2010's Beyond Hell / Above Heaven has an old-fashioned dusty crossroads demon tale about a man who sells his soul to the devil and then steals it, and stars Henrik Hall of Danish pop-rockers Love Shop performing on the harmonica. This extra dimension of sound adds real strength to its message that life is worth living here and now.
6. Aerosmith – Cryin '
One of the rock harmonica classics of all time. The third of the seven (!) Singles taken from 1993The Incredible Get A Grip, Cryin 'tells the story of a relationship that started on a euphoric level before ending in utter misery, which either references a romantic entanglement or the leader's drug use Steven Tyler. "Listen to the lyrics, "he told Rolling Stone when he emphasized the song's tangy style. "It was country – we just picked it up by Aerosmith. The choice of instrumentation was also convincing evidence of the Bostonians' growing trend towards the Wild West, as if more was needed.
5. Crobot – The Necromancer
'Hail, Necromancer / The slain arise and kill!'Pottsvillee, PennsylvaniaCrobot's heavy funk rockers love a bit of harmonica, with frontman Brandon Yeagley layering it down as part of their comeback appeal. The third track of 2014 start LP Something supernatural sees him explode on his harp from start to finish, to an Evil Dead inspired tale of an army of zombies commanded by the titular necromancer, wading through a bloody battlefield to kill us all. Because who said that the oral organs cannot be pure evil?
4. Weezer – My name is Jonas
Los Angeles alt. Weezer icons have a strange knack for making ostensibly inappropriate stylistic choices to feel like the most natural in the world. This goes back to the very first song by their namesake 1994 debut, where the terribly offbeat story of a serious traffic accident experienced by singer's brother Rivers Cuomo surges through wave after wave of proto-emo electric / acoustic riffs and into a jaw-dropping harmonica solo by the singer himself. Absolutely timeless pop-rock perfection.
3. Ministry – Dirty pig
Another group where many listeners may not even have incorporated the use of the mouth organ for the first time, the industrial supremos of Chicago Ministry have always been more focused on tin riffs, nightmarish atmospheres and pure sonic chaos that any sort of blues-rock revivalism. On the title track of 1996's Filth Pig (so named after the leader Al Jourgensen was called a "dirty pig 'in the British Houses of Parliament), however, the instrument is expertly woven into the mix, adding another level of trippy shimmer to the swirling sonic nightmare. Another strangely disturbing listening, 25 years later. 'Dirty pig, I sleep with both eyes open …'
2. Clutch – Electrical concern
On the other side of the coin, blues rockers from Maryland Clutch are exactly the kind of dudes you would expect to have harmonicas around their necks. They don't disappoint, especially in the hard-hitting single from 2007's Outstanding From Beale Street To Oblivion – a partial cover of blues legend Muddy Waters' 1955 classic Trouble No More. Eric Oblander of the Ohio stoner-rockers Five Horse Johnson plays the instrument on this and several other tracks across the LP.
1. Black Sabbath – The Sorcerer
It has often been observed that the sound of the harmonica is reminiscent of a train blowing its horn in a distant railway tunnel. This is absolutely the case with Ozzy Osbourne's wailing licks on the fourth track of Black Sabbath's eponymous 1970 start. Legend has it that the song was originally an ode to the group's drug trafficker ('Never speak / keep walking / spread its magic'), but guitarist Tony Iommi has since clarified that he was actually a local eccentric that Ozzy and bassist Geezer Butler saw pounce outside the pub as they were completely stoned. Either way, the song feels fantastically otherworldly, while simultaneously paying a propulsive homage to the blues traditions the band was born from.
Posted on September 14, 2021 at 1:41 p.m.
Read more