The Acorn Theater stages a series of summer concerts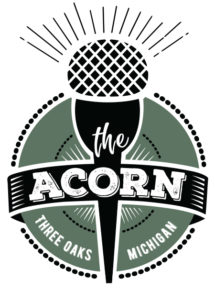 Summer means fun: outdoor activities, adventures and live music! the Acorn Theater in Three Oaks has just announced its concert lineup for June, July and August, and it's bringing an exciting mix of classic rock, country, jazz and Americana to Southwest Michigan.
Friday, June 10 at 8 p.m. welcomes the Cash Box Kings to the stage, "With deep feeling and top-notch talent, these masters of blues rock house play classic Chicago blues with boundless energy." Tickets start at $25 and the Cash Box Kings have been known to throw a party, so wear your dancing shoes!
Grammy-nominated folk artist Robbie Fulks will be at the Acorn on Friday, June 17, and his resume never ends. Composer, writer, singer, instrumentalist, and teacher, Robbie specializes in country and bluegrass music and has performed on NPR, PBS' Austin City Limits, NBC's Today, Conan O'Brien, 30 Rock, and more. The show starts at 8 p.m.
From Bakersfield, Calif., hail Cracker — the six-member band that combines alt-rock, blues, grunge and Americana, and returns to The Acorn on Thursday, June 23 at 8 p.m. They produced ten studio albums, several gold records and their songs are still played by radio stations around the world.
On Friday, June 24, Harbor Country's favorite blues/rock/soul ensemble, The Newport's, returns with their "eclectic mix with a southern vibe." Since 2014, fans have flocked to their concerts in Three Oaks, knowing that the promise of a high-energy show is one that is never broken. The show starts at 8 p.m.!
I'll Stop the World and Melt With You on Thursday, June 30, as Modern English fills the house with its catchy drum beats and unmistakable vocals. Dance the night away with this internationally acclaimed new-wave/post-punk band. Tickets start at $45.
Two-time Grammy-winning jazz singer Kurt Elling will take the stage Friday, July 1 at 8 p.m. and has been hailed by The New York Times as "the standout male vocalist of our time." Kurt was born in Chicago, toured with the Branford Marsalis Quartet and released his latest album, SuperBlue, in 2021. He's been nominated for thirteen Grammy Awards and puts on a spectacular show.
For an evening of classic rock, "Heartache Tonight" brings you timeless classic songs from this Eagles tribute band. 8 p.m. on Friday, July 8 promises soaring a capella melodies, shimmering harmonies and the perfect dedication to a fabulous band.
There are even more concerts planned for this summer at The Acorn; it's only four weeks of shows! Sprinkled throughout the concert series, the Acorn features many other events: a GhostLight Theater play, "An Acorn Evening With Marc Giangreco", film screenings and the 10th Annual Songwriters Competition – interpreters (the deadline is June 3!). Visit their website, acornlive.orgfor information on purchasing tickets, making a donation and to find a detailed calendar of events for the year.
By Jocelyne Tuszynski, MOTM collaborator