Walk Inside Ice Temples – A Look At Venom's Overlooked 1991 LP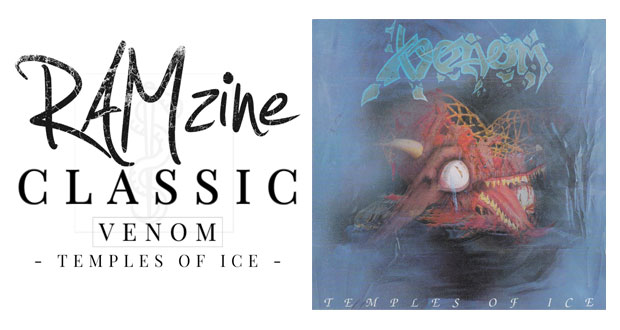 Black metal pioneers Venom hardly need any introduction as they are the ancestors of all things extreme in metal, and their influence on the whole scene cannot be overstated. Newcastle's Unholy Trinity was and is the sound of hell on earth, and their early releases are legendary and hugely significant in many ways. Whenever one mentions or thinks about the vicious set, his thoughts probably tend to gravitate towards welcome to Hell (nineteen eighty one), Black metal (1982), and At war with Satan (1984), which is perfectly understandable as these are exceptionally cool benchmark recordings that spawned countless metallic subgenres. Combining the speed of Mötorhead and punk rock with the ominous and disturbing aspects of Black Sabbath, then adopting grim stage names and hellish and satanic imagery as well as grim lyrical themes, the British squadron broke new ground and took on grim stage names. mapped out something unique that he could rightly call their own. As stated in Lords of Chaos by authors Michael Moynihan and Didrik Søderlind, "Venom began in 1979-1980 in Newcastle, England, the result of three Metal fans and musicians who decided to go further than their contemporaries" (10). As Dayal Patterson also points out, "[…] Venom was not only essential in the creation and development of 'extreme metal', they were also arguably the first group for which such a description could be considered accurate "(6). Patterson later states that "[…] There is no doubt that it was their early career that really helped create the black metal movement. And of course, Venom will always be the group responsible for the term itself (alongside several others), even if the later groups that took ownership of the phrase would interpret it a little differently "(16). If you are not already familiar with their first outings, you need to let off steam and grab hold of them as soon as possible and study them.
Given that Venom has been around for decades and outlasted most metal bands (they disbanded for a few years around 1993-94) and underwent several line-up changes, it's no surprise that they are gems and black horses in their discography. One of them is from 1991 Ice temples, who was the second Venom LP to feature former Atomkraft singer / bassist Tony "Demolition Man" Dolan, and this one deserves more praise than he's been given before. The rest of the line-up consisted of guitarist Al Barnes and the two original and founding members of the group, Abaddon (drums) and Mantas (guitars). His ten pieces were captured for posterity at Lynx Studios in Newcastle.
The first time I ran into Ice temples, or rather much of it, was back in the spring of 2001 when a friend of mine gave me a copy of an obscure compilation of Venom called The court of death, which contained six songs from the Ice temples LP. This particular compilation focused solely on the Tony Dolan era of the band so I basically got my hands on a substantial amount of material from the three records he burned with the band before they disbanded in 1992.
So why do I love and cherish this hard-hitting, fierce and seemingly forgotten entry in the band's discography so much? Why this strange fascination for this album? On the one hand, I admire the fact that the band has persevered in the face of declining record sales and managed to record such a strong and muscular set of songs. Second, there is the whole notion of Ice temples be an outsider and whom you rarely, if ever, hear people talk about or bring up in the discussion. As Alex Ogg states in the liner notes of the above The court of death compilation,
From the mid-80s onwards Venom's dark star began to fade. Possessed, released in 1985, attracted only mediocre reviews. Trouble brewed in the ranks. The new black metal elite accused the band of not taking their devil worshipping seriously. While recording a new album, guitarist Mantas threw in the towel for a solo career. The remaining duo recruited locals Mike Hickey and Jim Claire for 1987's Calm Before the Storm, before Cronos too departed for solo pastures. Abaddon, persistency embodied, recruited a new vocalist, Tony 'Demolition Man' Dolan, formerly of Atomkraft, for 1989's Prime Evil, considered by some to be a return to form.
While First Evil is certainly a superb slab of blackened thrash metal and kick-ass effort all around, Ice temples is definitely the only Venom record that deserves a lot more attention and praise. The songs are well written and catchy, the band seems to blend together from a purely musical standpoint, and the compositions just work like a sick charm. It's a shame that the cursed opus was never promoted properly. I even love the album cover art, which probably says more about me than pretty much any other metalhead who has ever looked at its ugly cover art. Besides the dark and epic title song, some of the most memorable tracks to check out here include the pounding 'Tribes', the instantly memorable'In Memory of (Paul Miller 1964-90)', The dynamic 'Even in paradise', and the short and piercing'Arachnid'. The record is fast and wild, loose and gritty – just the raw heavy metal cocktail you need. The production looks a bit dated from today's perspective, but that only adds to its charm and appeal.
Unless you are lucky enough to stumble upon a copy of the original vinyl or CD edition of the album (or perhaps a compilation such as the one mentioned above The court of death) your best bet is to simply search for it on YouTube and check it out. Venom is still alive and kicking ass (the group is led by Cronos these days) and Fallen angels (2011) and Depths (2015) are late-career triumphs that any self-respecting extreme metal fan should invest their time and hard-earned money in, but if you want to look for something that, for some unfair reason, seems like a mere note of bottom of page in the saga of the group, then Ice temples is an overlooked treat. When Abaddon, Mantas and Dolan resurrected the First Evil line-up (minus guitarist Al Barnes) in 2015 and adopted the nickname Venom Inc., I still wanted them to perform some of the tracks from the 1991 LP when they toured, but to my knowledge that was not before 2018 that the Ice temples title made an appearance on their set list. However, it's worth mentioning that prior to the launch of Venom Inc., Dolan and Mantas had actually recorded an album titled Crucified by M-worst of Evil in 2013, which consisted of re-recorded versions of songs from First Evil, Ice temples, and The Wild Lands. Clearly, Ice temples had not been entirely forgotten by its creators.
Some might say that Ice temples is the low point of the band's career, but don't believe it for a second; these people clearly did not listen The calm before the storm (1987) or Hell (2008). A remastered edition of the 1991 installment of Venom would be a much-loved addition to the black and thrash metal canon of great and underrated works, and while it may not be groundbreaking or flawless, it does. kills and offers hooks and rawness galore.
On a totally independent and final note, Tony Dolan appears as a carpenter named Mr. Lamb in the film titled Master and Commander – The Other Side of the World (2003) starring Russell Crowe and Paul Bethany, so be sure to pay attention next time you watch this movie. I love metal related anecdotes and fun facts like that. Maybe you too?
List of tracks:
Tribes
Even in paradise
Trinity MCMXLV 0530
In Memory of (Paul Miller 1964-90)
Fairy tale
Break
Acid
Arachnid
Speed ​​King (Deep Purple blanket)
Ice temples
Align:
Al Barnes – guitars
Tony "Demolition Man" Dolan – bass and vocals
Jeff "Mantas" Dunn – guitars
Anthony "Abaddon" Bray – drums
Ice temples was recorded in Newcastle (Lynx Studios) and produced by Kevin Ridley and Venom.
Released by Under One Flag in 1991 and distributed by Music for Nations.
Youtube:
Mentioned works:
Patterson, Dayal. Black Metal – Cult Evolution. Wild House, 2013.
Moynihan, Michael & Søderlind, Didrik. Lords of Chaos – The Bloody Rise of Underground Satanic Metal. Wild House, 1998.
Alex Ogg's cover notes at Venom's The court of death, released by Receiver Records in 2000
Connections:
https://www.facebook.com/VenomIncOfficial/